The Simex TF double drum cutter heads are ideal for trenching, profiling rock and cement walls, tunneling, quarrying, demolition, dredging, finishing operations and underwater works. TF drum cutters are highly effective where conventional excavation systems are too weak and percussion systems have little effect.
TF drumcutter's quiet operation and low vibration emission (<87 dB), allows them to be put to work near sensitive areas (residential zones, hospitals, schools, bridges and infrastructure). Especially recommended for finishing operations, where high precision, minimum disturbance and optimum aesthetic results are required.
| TECHNICAL DATA | °°° | TF 200 | TF 400 | TF 650 | TF 850 | TF 1100 | TF 2100 | TF 3100 |
| --- | --- | --- | --- | --- | --- | --- | --- | --- |
| Recomm. excavator weight (1) | ton | 2,5-7 | 6-12 | 9-16 | 14-22 | 20-34 | 28-50 | 50-75 |
| . | lbs | 5500-15500 | 13000-26500 | 19800-35200 | 30800-48500 | 44000-80000 | 61700-99000 | 110000-154000 |
| Weight without bracket | kg | 300 | 470 | 650 | 1100 | 1340 | 2380 | 2940 |
| . | lbs | 660 | 1050 | 1430 | 2420 | 2950 | 52400 | 6470 |
| Nominal power | kW | 30 | 40 | 50 | 70 | 90 | 120 | 185 |
| . | hp | 40 | 55 | 68 | 95 | 122 | 163 | 250 |
| Rotation torque | kNm | 2,8 | 5,1 | 7,4 | 12,1 | 20 | 26,7 | 48 |
| . | lbf.ft | 2080 | 3760 | 5450 | 8920 | 14750 | 19700 | 35400 |
| Cutting force | kN | 15,1 | 22,5 | 30,5 | 40,2 | 61 | 71 | 128 |
| . | lbf | 3400 | 5100 | 6850 | 9000 | 13700 | 16000 | 28700 |
| Max. pressure (2) | BAR | 350 | 350 | 350 | 400 | 400 | 400 | 400 |
| . | psi | 5100 | 5100 | 5100 | 5800 | 5800 | 5800 | 5800 |
| Required oil flow | l/m | 45-80 | 65-120 | 90-150 | 140-190 | 170-250 | 240-340 | 350-500 |
| . | gpm | 12-21 | 17-32 | 24-40 | 37-50 | 45-66 | 63-90 | 92-132 |
(1) User is responsible for ensuring that the equipment meets the excavator's specifications and weight requirements. (2) Torque and cutting force decrease with lowered operating pressure. Simex does not accept responsibility or liability for the information provided. Technical modifications may vary without prior notice.
These are the standard features, for custom solutions don't hesitate to 
contact us
.
A wide range of models for excavators, from 2.5 to 70 ton that ensure high performance in any application.
HIGH PERFORMANCE WITH NO LOSS OF POWER
Direct drive (1): direct drive hydraulic piston motor, which directly delivers power to the drums without mechanical transmission components, thus guaranteeing high torque and high performance. Shaft transmits motion only and bears no load thanks to double support bearings for each drum.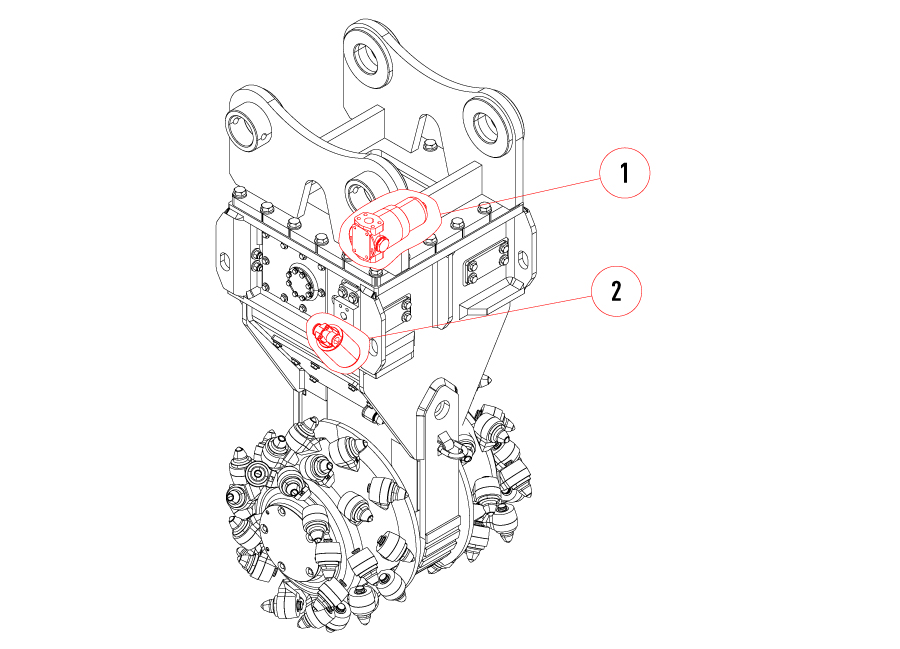 MAXIMUM PROTECTION AND ZERO ROUTINE MAINTENANCE
Filter on feed line (1) and filter on drainage line (2), both integrated, protect the hydraulic system from any external impurities, which can damage or reduce the performance of both the excavator and the equipment.
Additional protection from pressure peaks is provided on drainage line by an accumulator and a fuse and on feed line by a flow limiting valve. The latter also allows easy coupling with various excavator models and sizes, facilitating installation and calibration operations.
The direct drive motor does not require lubrication or other types of routine maintenance.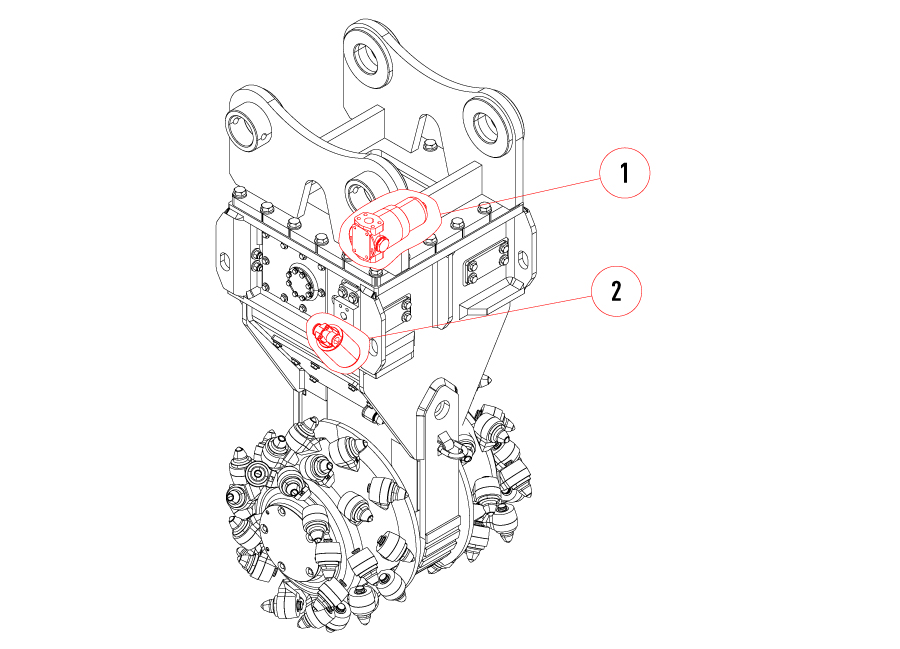 DESIGNED FOR MAXIMUM PERFORMANCE
The frame's particular shape allows reducing the distance between the drums improving the total working width. Furthermore, milled material is discharged from the trench without getting stuck in the structure due to perfect symmetry of the frame, which also allows hoses to be hooked up at sides and front.
Replaceable anti-wear plates. In addition, the mechanical gaskets fitted on the drums ensure maximum resistance to dust and any external agent, allowing the TF drumcutter to work completely submerged into the ground or water up to a maximum depth of 30 metres.
Drum cutter can be rotated 90° thanks to square holes of coupling plate, thus making the equipment even more productive and versatile in regards to the application field.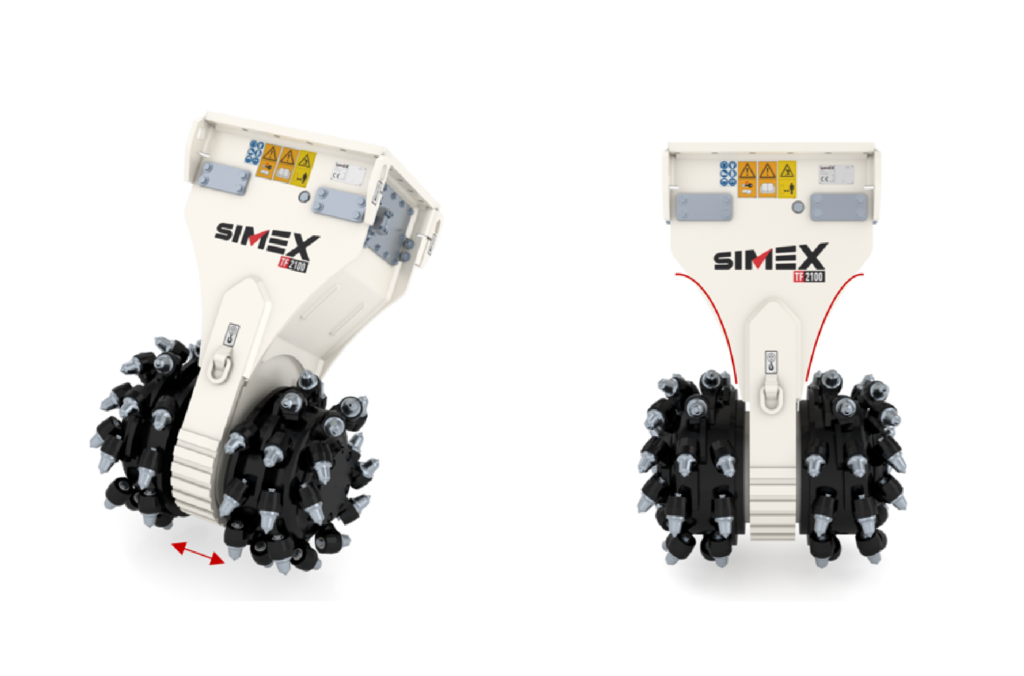 Hydraulic rotation allows the operator to always find the ideal working position, leading to increased productivity and maximum precision.
WHY CHOOSE A SIMEX DOUBLE DRUM CUTTER HEAD?
The advantages of Simex drum cutters compared to conventional methods such as explosives or hydraulic hammers are various:
• A more accurate profiling
• milled material reusable directly on site narrow and deep excavations, precise cuts
• continuous working, therefore greater efficiency
• Low vibrations and low noise which allow you to work even in sensitive areas
• minimisation of fractures within the rock mass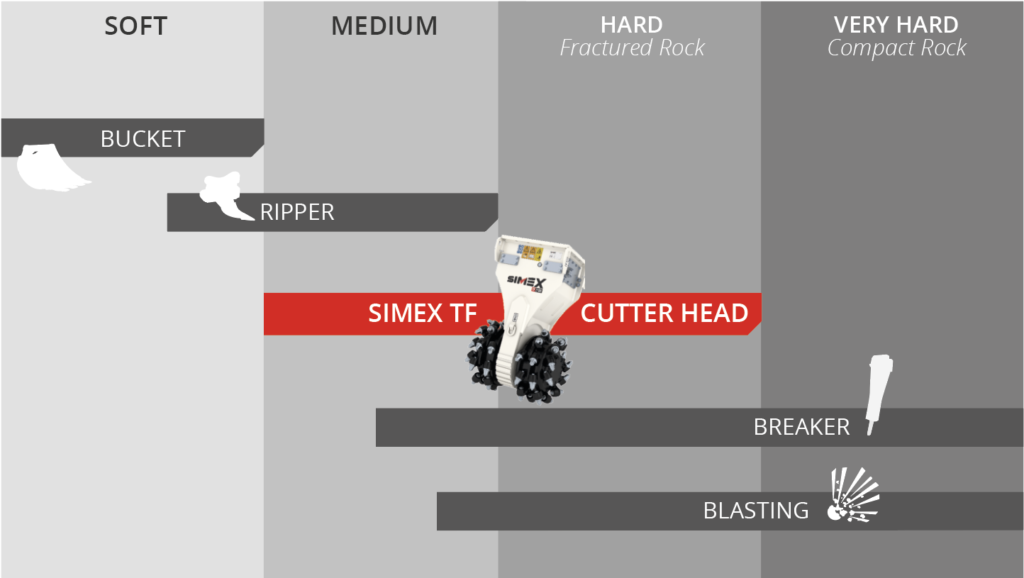 DRUMS AND TEETH FOR ANY APPLICATION
Simex drums are designed to achieve the highest performance according to the required application. The standard HP drum allows deep penetration even into hard materials. The GP drum is suitable for wall profiling and various types of jobs, while the WP drum is specific for profiling and finishing works thanks to its larger width.
There are also multiple tooth geometries available for working on different materials. The standard tooth supplied is perfect for mixed materials. Optional teeth are available both for very hard materials and for wood specifically.
The Simex team of experts, which consists of qualified technicians together with application specialists, will be able to guide the user in choosing the most appropriate TF drum cutter, specifically analysing the material to be worked.
In construction as well as quarrying or demolition works: how to calculate the resistance and estimate the fracturing of a rock? Which cutter head model is the most effective? What will hourly production be?
To answer these questions, we have further improved our technical and R&D department by including a professional geologist in our team. Marco Garofalo, with over 30 years of experience in the sector, is at the disposal of our distribution network and users.
The TF double drumcutters have two main fields of application: STANDARD, where the cutter head operates in applications with infrastructural or demolition purposes. Or HEAVY, when working in contexts such as quarries, mines or tunnels. However, the great flexibility of Simex TF drum cutters means they can be used in many various fields and niche applications.
When laying underground utilities, such as water or gas pipes, the TF drum cutter is necessary for excavating a trench with a larger section. By using both drums tangentially, productivity remains high while still containing vibrations and noise (<87 dB), which instead characterize the percussion systems.
The small and mid-sized models of the TF drumcutter range can be used successfully in building and infrastructure works such as the demolition of pavements and interior and exterior curtain walls, for milling vertical surfaces to remove plaster, for exposing structural elements or reclaim deteriorated concrete.
The low vibrations and noise emission (<87dB) allows the TF drum cutter to work even near sensitive areas such as residential zones, schools, hospitals, bridges or tunnels.  
The cutter heads are often used in the controlled demolition of pavements, concrete slabs and buildings in general. The TF drumcutters are used in those demolition works where, due to the space limitations of the construction site and the sensitivity of the surrounding area, it is not possible to work with percussion systems or even with explosives.
Furthermore, the TF drum cutter tolerates the presence of rebars in reinforced concrete.
External agents, such as water and carbon dioxide, trigger corrosion processes that can create serious cracking problems in reinforced concrete, exposing tunnel walls to progressive structural weakening. The Simex TF drumcutters are ideal for vaulted milling workwith the aim of removing deteriorated concrete. Profiling with the TF drum cutter does not stress the rock mass and the bearing structure, ensuring the perfect balance between productivity and precision.
In quarrying works, the TF drumcutter showcases its full versatility: on the one hand, it guarantees selective breaking of the rock mass ensuring the stability of the wall in applications such as open pit extraction; on the other hand, it increases profitability, producing a crushed material that often does not even require further volume reduction by additional equipment or operating machine.
The cutter heads can be fitted with special teeth for processing wood, in those jobs where crushing roots and tree trunks is necessary. In general, they can also be used in tilling mixed soils featuring a heavy presence of rocks and stones, for the subsequent laying of underground utilities or for planting.
CALCULATOR FOR HOURLY PRODUCTION
SPECIFY DEGREE OF FRACTURING
SPECIFY THE RESISTANCE VALUE
SPECIFY THE POWER OF THE MACHINE
CALCULATE THE INSTANTANEOUS CUTTING RATE
Here is some help with the following values:
Enter your details and your email address here to receive the results of the calculator (the hourly production in mc/h and the expected tool wear). You will be contacted for a free consultation from our team of experts.
Fields marked with an asterisk (*) are mandatory.